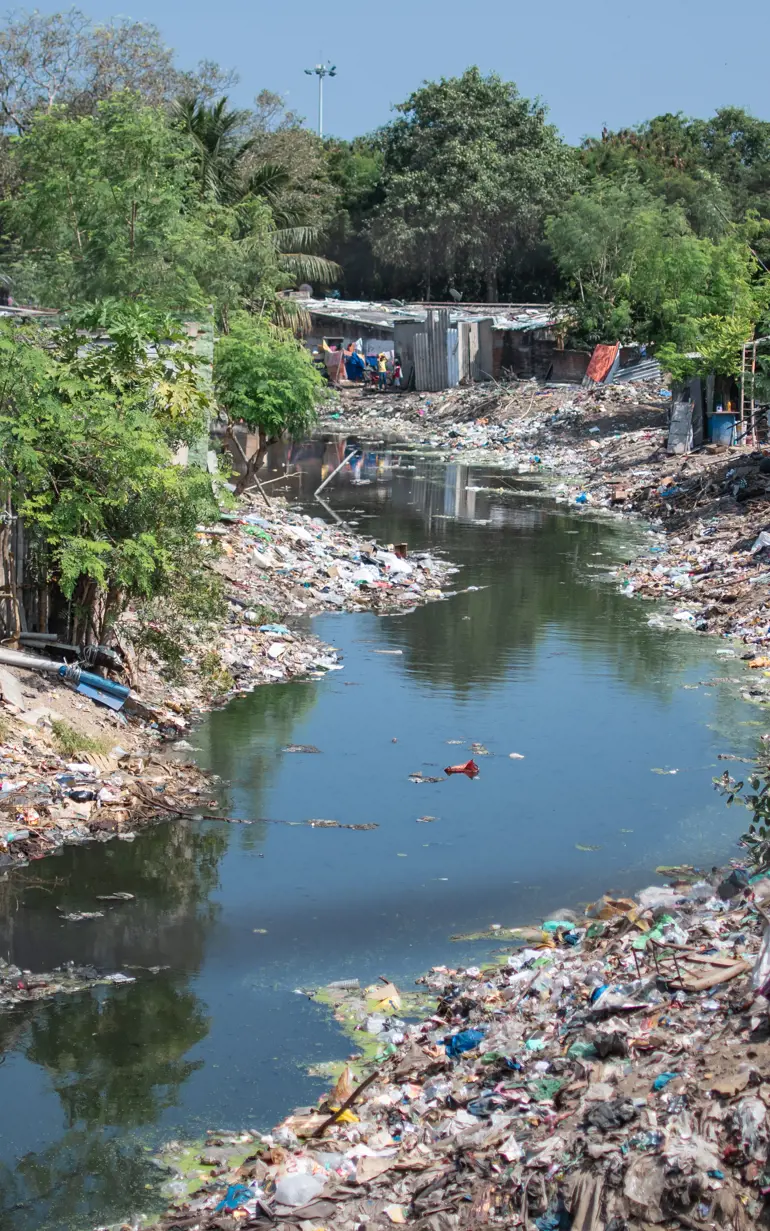 Project
Moving towards a future without plastic pollution
Forecasting plastic litter load in rivers supports policymaking and promotes action to end plastic pollution
Plastic pollution is one of the most pressing environmental issues the world is facing today. The rapidly increasing levels of plastic production and subsequent pollution negatively impact the environmental, social and economic dimensions of sustainable development. In 2022, United Nations Member States endorsed a historic resolution to develop an international legally binding agreement to end plastic pollution, including in the marine environment, by 2024. UNEP-DHI Centre on Water and Environment is supporting the United Nations Environment Programme (UNEP) in efforts to curb plastic pollution by developing digital solutions to estimate plastic pollution in rivers and freshwater ecosystems, as well as in facilitating information sharing across organisations and nations.
Challenge
To tackle plastic pollution and address the full life cycle of plastic from source to sea, there is a need to look at plastic's transport pathways: the rivers. Research indicates that the world's rivers are a major contributor to plastic pollution in oceans, highlighting the need for active and targeted interventions in river systems to prevent further environmental damage. By understanding, monitoring and forecasting river plastic flows, policymakers will know where immediate action is required so solutions can quickly become an integral part of the battle against plastic waste.
In line with the new UN resolution 'End plastic pollution: Towards an international legally binding instrument', UNEP is helping countries to build their capacity to successfully combat plastic pollution, including in the marine environment. This work includes developing solutions that can help forecast plastic litter load in rivers, track their pathways and thereby guide the necessary improvements in policies and actions on the ground. At the same time, there was a need to facilitate information sharing and dialogue among stakeholders through better access to data and good practices for combating plastic pollution.
Solution
UNEP-DHI is supporting UNEP in two key activities: 
Developing a model to estimate plastic pollution in rivers and freshwater ecosystems
Understanding, monitoring and forecasting river plastic flows can help identify where the problem is, where it originates and how best to intervene. Building upon DHI's Global Hydrological Model, UNEP-DHI developed a model that is capable of identifying upcoming freshwater hotspots and plastic accumulation points up to nine months in advance and includes all major river systems in the world. Using estimates of how much plastic is entering rivers every day as well as field data on plastic loads as model input, simulations of plastic accumulation are produced for over 870,000 points along rivers worldwide. The model is available to countries when they need to assess the status of plastic pollution in rivers in order to identify and prioritise interventions as part of the process of developing plans to inform action. The model can also help monitor progress in near real-time to assess the impact of interventions and policies.
Supporting the development of the GPML Data Hub to facilitate sharing of information and best practices
To effectively address marine litter and plastic pollution, collaboration is key. UNEP-DHI is also supporting UNEP in the development of the GPML Data Hub within the Digital Platform of the Global Partnership on Plastic Pollution and Marine Litter (GPML). Information about key data, policies and technologies to fight plastic pollution are made available across the entire plastic lifecycle through the Digital Platform covering the plastic cycle – from origin to impact. This comprehensive data hub enables stakeholders at all levels – global, regional, national and local – to get easy access to curated data in the form of more than 130 indicators. The datasets are packaged in a form that is easily understandable for decision-makers to support the development of plans to inform action.
Results
Being able to quantify plastic pollution in freshwater ecosystems can help identify and implement relevant interventions and policies towards ending plastic pollution, not just to be in line with the forging of the UN agreement but to truly benefit the environment.
Strengthened country capacity for the identification of plastic pollution sources in rivers and freshwater ecosystems
Better access to information and good practices on combating plastic pollution, including in the marine environment
Improved capability for countries to develop plans and inform action to end plastic pollution
Related SDG(s):
SDG 6: Ensure availability and sustainable management of water and sanitation for all
SDG 14: Conserve and sustainably use the oceans, seas and marine resources for sustainable development
About our partner
Since its inception in 1972, UNEP has been the global authority that sets the environmental agenda, promotes the coherent implementation of the environmental dimension of sustainable development within the United Nations system and serves as an authoritative advocate for the global environment. Learn more about the work they do in water: www.unep.org/explore-topics/water
How can we help?
With our global network of offices, we make sure you get the right answers to your local needs. Tell us about your water challenges and we will get back to you.