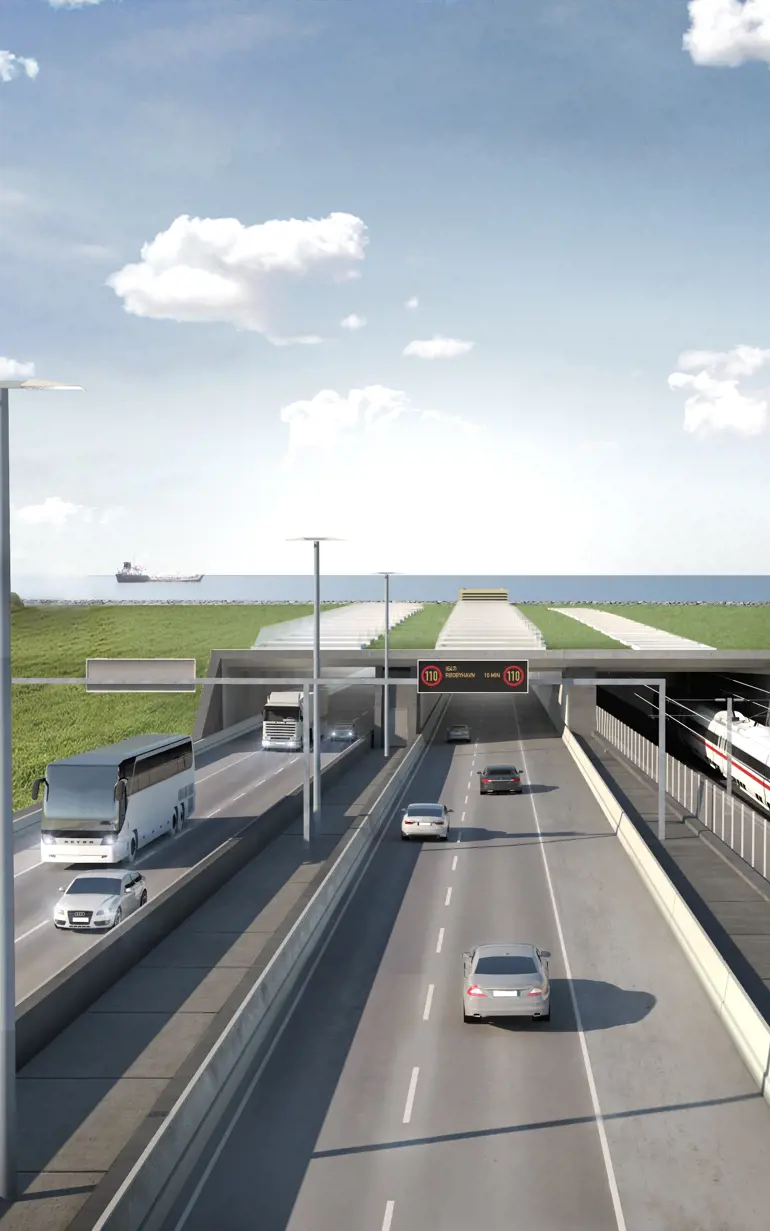 © Femern A/S
Project
An environmental portal for the Fehmarnbelt tunnel project
The ÆGIR data portal helps communicate findings from marine and land assessments and supports operational planning for the world's longest immersed tunnel
The Fehmarnbelt tunnel is one of Denmark's largest infrastructure projects and the world's longest immersed tunnel connecting Fehmarn, Germany to Lolland in Denmark. Now under construction both on land and at sea in Danish and German waters, the Fehmarnbelt tunnel will significantly reduce travel time and strengthen links between Scandinavia and Central Europe upon completion in 2029. Femern A/S has been tasked by the Danish Ministry of Transport to undertake the planning, construction and operation of the 18 km long tunnel. There is a need to comply with environmental obligations, ensure work is carried out sustainably and communicate environmental monitoring results to authorities. A data portal is helping to facilitate interaction among stakeholders and provide a transparent overview of environmental data related to the tunnel construction.
Challenge
Respect for nature and the environment is paramount in the construction and eventual operation of the Fehmarnbelt tunnel. As the project is cross-border in nature, Femern A/S has to ensure that German, Danish and European environmental legislations are taken into account.
To ensure full transparency in project operations, Femern A/S needed a platform to synchronise, communicate and publicly report various monitoring data acquired from environmental surveys and assessments. The platform should serve as a repository for environmental data that can be easily understood by academics, authorities as well as the general public. Previously, Femern A/S had a simple data viewer in place, but the lack of interactive features made it difficult for stakeholders to visualise the available data.
Solution
Environmental impacts of large-scale projects can be mitigated through careful planning and implementation of construction work. And access to high-quality, accurate environmental data is crucial.
For more than 10 years, the DHI team has been providing support to the Fehmarnbelt tunnel project. As the consortium leader of the Fehmarnbelt Environmental Monitoring and Consultancy (FEMO), DHI and partners have designed and carried out environmental impact assessments related to nature and water environments within the planned construction area. Some of these tasks include marine monitoring, sediment spill supervision and surveys, modelling and investigations related to hydrography, marine benthic flora and fauna, birds, marine mammals, coast and seabed conditions to ensure compliance with limits set by the authorities.
Femern A/S needed to make the above environmental data more accessible for all stakeholders. To fulfil this need, DHI developed the data portal ÆGIR to help Femern A/S publicly communicate, share and visualise the monitoring data and reports accompanying the environmental assessments. The data portal displays key environmental data, including:
Monitoring data: such as data from flora, fauna and water surveys, marine birds and mammals monitoring, as well as sedimentation and metocean measurements
Live data: for example, near real-time data from DHI's extensive buoy system that measures hydrodynamic parameters, oxygen, temperature, turbidity, etc. throughout the Fehmarnbelt project area
Conditional requirements: for instance, project-related sediment spill and airborne noise
Related SDG(s):
SDG 9: Build resilient infrastructure, promote inclusive and sustainable industrialization and foster innovation
SDG 14: Conserve and sustainably use the oceans, seas and marine resources for sustainable development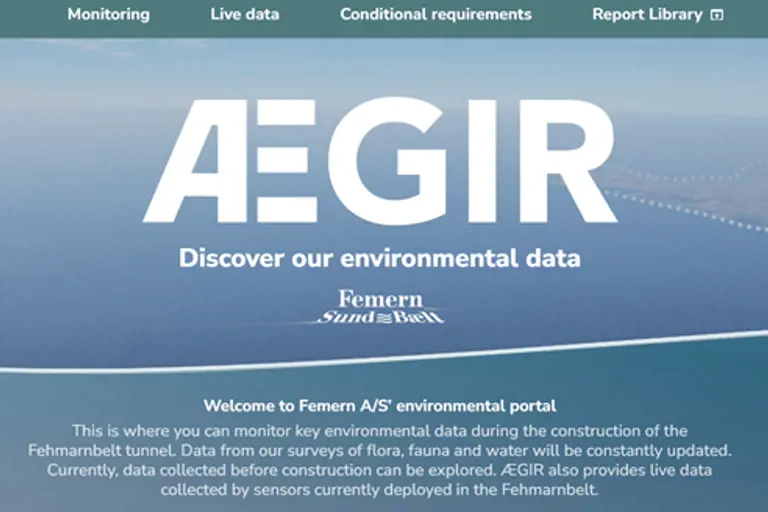 The ÆGIR portal helps Femern A/S publicly communicate, share and visualise environmental monitoring data and reports. © Femern A/S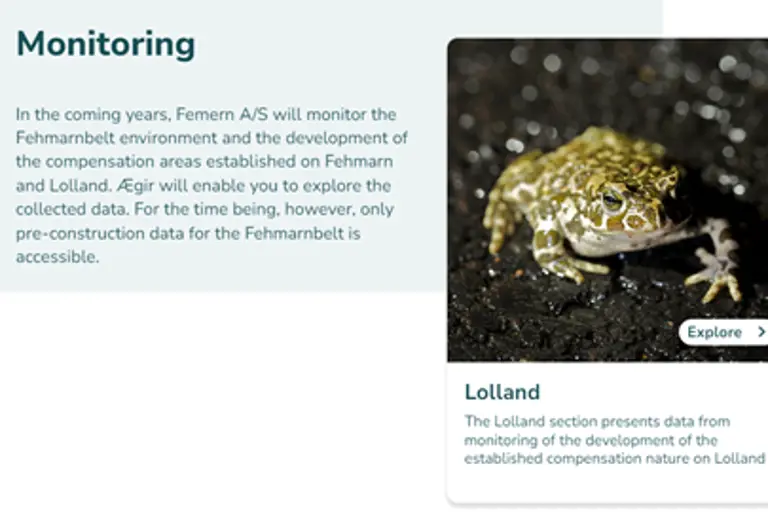 The user-friendly portal publicly displays various environmental data during ongoing construction. © Femern A/S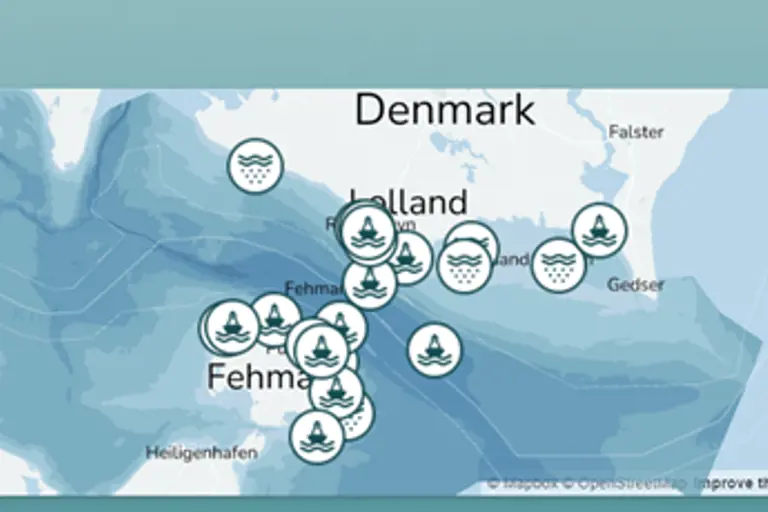 The data portal displays key environmental data, including live water and weather data. © Femern A/S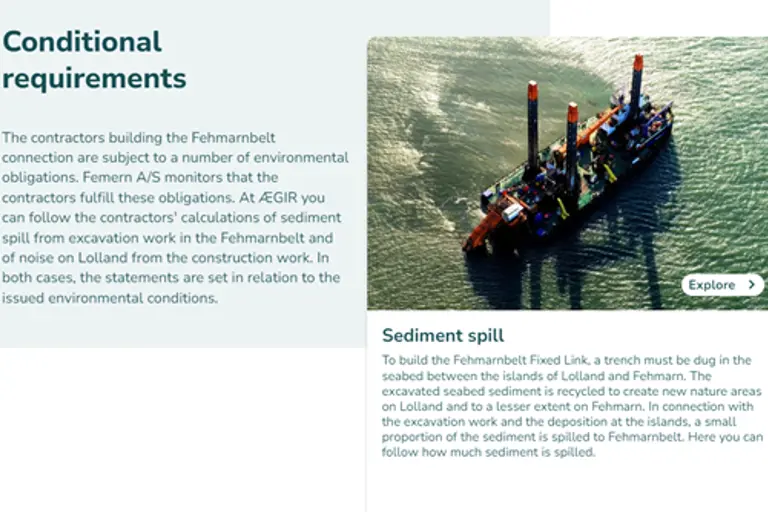 The portal allows users to view calculations of sediment spill as well as data of construction noise on Lolland. © Femern A/S
Results
The Fehmarnbelt tunnel is an important component of the future European transport network and will make a significant contribution to the green transition of the transport sector. The ÆGIR portal, developed at DHI over three years, is now a cornerstone in Femern A/S's communication of environmental status to authorities, the public, their management and in their own marine operational planning.
The ÆGIR portal provides a repository of environmental data related to the Fehmarnbelt tunnel construction
The full transparency in data reporting facilitates communication with the public and Danish and German authorities
With regularly updated data, stakeholders can take proactive steps to better protect nature and biodiversity

'The ÆGIR portal has created a whole new way of reporting and displaying data, which is crucial in our communication to key stakeholders and the public. We appreciate the collaboration and co-creation process with DHI, who has supported the Fehmarnbelt tunnel project throughout the years with their expertise in marine and water environments.'
Anders Bjørnshave, Head of Department, Environment
Femern A/S
About our client
Femern A/S is a 100% Danish company tasked with planning, building and operating the fixed link across the Fehmarnbelt between Denmark and Germany. The company has 160 employees working from offices in Copenhagen, Rødbyhavn, Hamburg, Burg and Puttgarden. Femern A/S is a subsidiary of the state-owned Sund & Bælt under the Danish Ministry of Transport.
How can we help?
With our global network of offices, we make sure you get the right answers to your local needs. Tell us about your water challenges and we will get back to you.