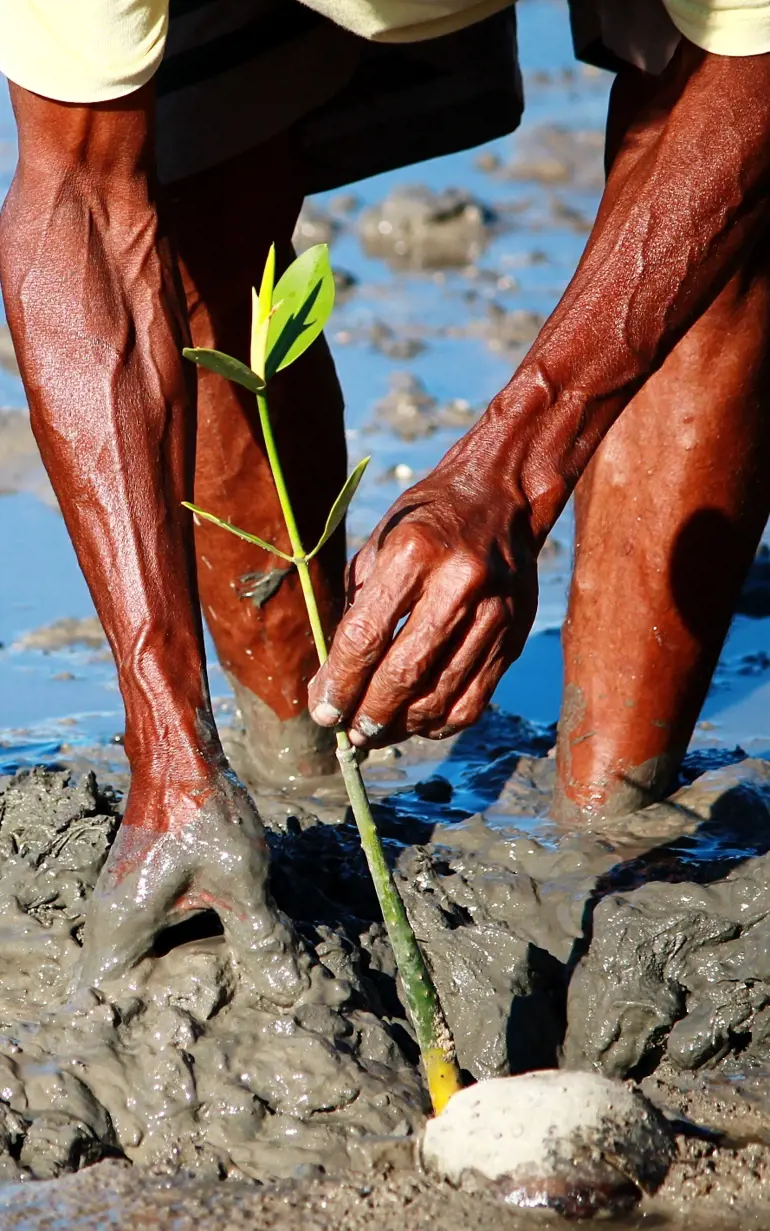 Project
Bridging biodiversity protection and economic development in Brunei
A site-specific approach led to mangrove restoration success following the Pulau Muara Besar bridge project
Situated on the northern coast of Borneo island, Brunei Darussalam is an independent sultanate with a rich history. The country is well-known for its remarkable biodiversity, from coastal mangroves to lush inland rainforest ecosystems. As a small sovereign nation, Brunei also realises the need to boost economic resilience by providing an attractive business environment for investors, creating employment opportunities for citizens and ensuring long-term sustainability for all. And it doesn't have to be one or the other: preserving Brunei's biodiversity and increasing growth and prosperity can go hand in hand. A mangrove restoration project that commenced after the Pulau Muara Besar bridge was completed reveals how.
Challenge
The Pulau Muara Besar bridge was a major construction project to link the Brunei mainland with Pulau Muara Besar, a developing industrial island in Brunei Bay. For large-scale development projects in Brunei and around the world, environmental impact assessments (EIAs) are mandatory to evaluate the project's potential impact on the surroundings. At the end of the project's lifecycle, contractors are often required to restore sites to their original states as far as possible.
To execute the bridge construction project, China Harbour Engineering Company Ltd (CHEC) had to clear a nearby site – mainly characterised by mangroves – to be used as a temporary construction yard. After the project was completed, it was time to restore the mangroves.
But it's not just about planting random species onsite and hoping that they thrive. Many mangrove restoration projects fail because of a lack of understanding of the site hydrology, poor site and species selection as well as the absence of long-term monitoring and management. Recognising that mangrove restoration endeavours tend to have low success rates, CHEC decided to work with an experienced team that could help the mangroves increase their chances of survival.
Solution
DHI's team in Brunei was called in to lead the mangrove restoration project. Numerous site visits were made to understand the environmental factors that would impact the mangrove restoration process. From the site observations, CHEC and DHI carried out the following site-specific steps:
Site preparation works, including the creation of a small stream to allow better water flow. This has established the environment needed for natural restoration to take place.
Mangrove species selection and sourcing, with support from the Forestry Department. Suitable mangrove species were selected and a total of 1,530 plant materials from seven mangrove species were sourced from locations around Brunei.
Soil preparation to ensure optimal planting conditions
Germination, care and planting, where plant materials underwent daily and weekly care for up to three months until they were ready for transplant at the site
Some of the main considerations during the mangrove restoration process included understanding the sediment types and tidal flow onsite, identifying suitable mangrove species to plant, knowing where and how to source and care for them as well as adopting appropriate planting techniques. 
Implementing a site-specific mangrove restoration approach meant that more time was spent on studies, daily care and monitoring. But the hard work paid off. After the germination process, a total of 399 out of 710 plant material survived and were transferred to the restoration sites. Today, more than 70% of the planted saplings have survived. 
Related SDG(s):
Goal 9: Build resilient infrastructure, promote sustainable industrialization and foster innovation
SDG 13: Take urgent action to combat climate change and its impacts
SDG 15: Protect, restore and promote sustainable use of terrestrial ecosystems, sustainably manage forests, combat desertification, and halt and reverse land degradation and halt biodiversity loss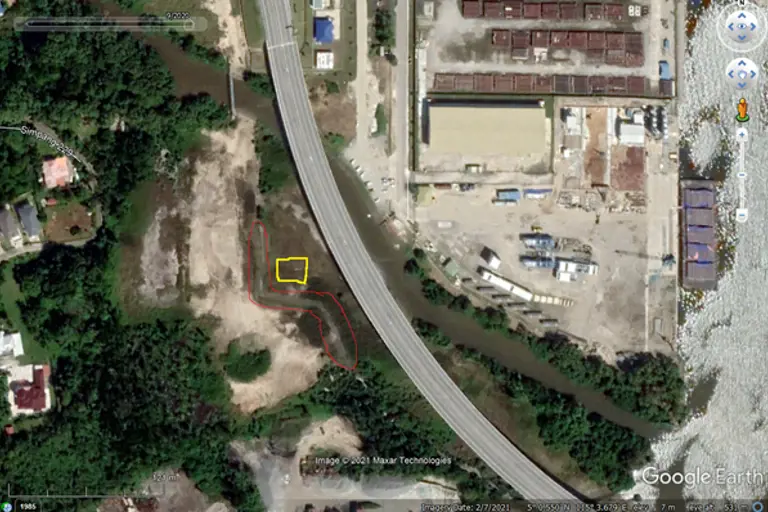 Satellite image showing the mangrove restoration site (in yellow), under the Pulau Muara Besar bridge. © 2021 Maxar Technologies
February 2020 vs June 2021. Two years on, the mangrove plants at the site are thriving. © DHI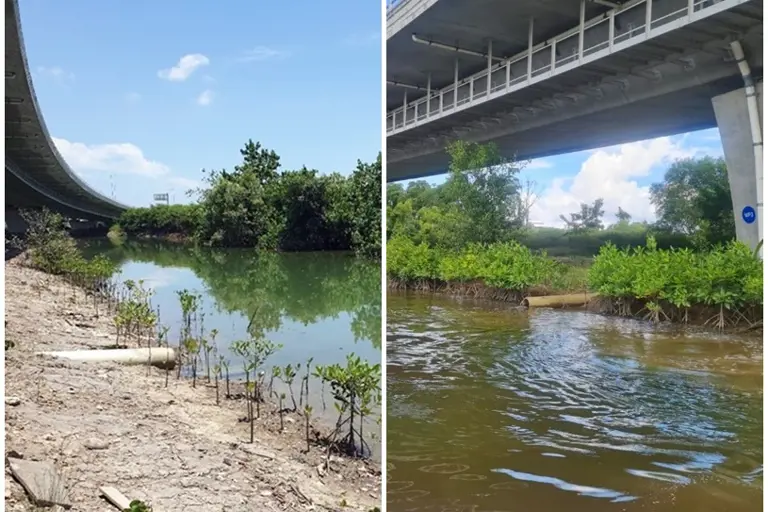 Before and after photos from different angles show positive growth (notice the pipe location). The photo on the right was taken two years later in June 2022. © DHI
Results
'After two years, the mangroves at the site are thriving and yielding better results than similar projects in Brunei' , says Liaw Lin Ji, who was the project manager and an environmental specialist from DHI Brunei. 'This is important as mangroves are powerhouses of carbon capture and storage that the world very much needs. They also play a major role in stabilising and protecting shorelines and infrastructure from erosion, filtering out pollutants in the water and preventing flooding, while serving as valuable nursery grounds, habitats and refuge for wildlife.'
The success rate of mangrove restoration projects is often low due to the typical one-size-fits-all approach, but it doesn't have to be this way. With careful planning and a customised approach, mangroves now have a better opportunity to flourish and contribute to important ecosystem services that are necessary for the health of our planet.
This project created valuable learnings that will guide and benefit future mangrove restoration activities
The site was restored to conditions accepted by local environmental agencies and the client could fulfil their obligations in the EIA
Two years on, the mangroves are thriving and yielding better results than similar mangrove restoration projects in Brunei
'As a company committed to sustainable growth, it is important for CHEC that a project's site is left in a similar condition as it was before the project existed, if not better. It's not just about fulfilling obligations in the contract, it's more about doing our part for the environment. Successful mangrove restoration is not easy to achieve and having an approach that takes site-specific conditions into account makes all the difference to the overall restoration success.'
Zhang Shuaijun, Project Director
China Harbour Engineering Company Ltd. (CHEC)
About our client
Founded in 1980, China Harbour Engineering Company Ltd. (CHEC) is a subsidiary of China Communications Construction Company Ltd (CCCC), one of the Global Fortune 500 companies. CHEC's diverse infrastructure portfolio includes marine engineering, dredging and reclamation, road and bridge, railway, airport and equipment assembly, among others. Today, CHEC has more than 70 overseas offices and subsidiaries serving clients in over 80 countries around the world.
How can we help?
With our global network of offices, we make sure you get the right answers to your local needs. Tell us about your water challenges and we will get back to you.