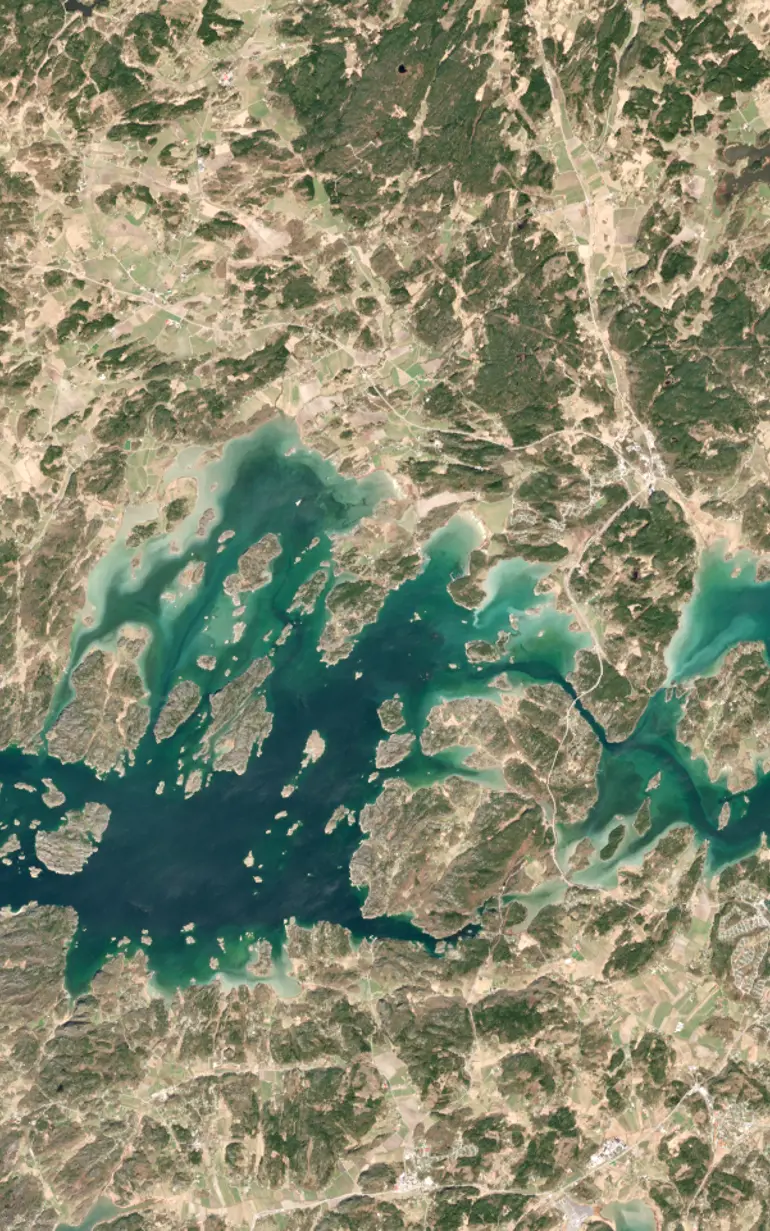 Project
Earth observation technology helps protect blue carbon ecosystems
National mapping of submerged aquatic vegetation in the shallow Swedish coast using satellite imagery
Submerged aquatic vegetation (SAV) such as kelp forests, eelgrass meadows and rockweed beds are some of the most productive ecosystems on Earth, playing a critical role in maintaining the health and function of aquatic ecosystems. Recent evidence suggests that SAV is one of the most efficient ecosystems when it comes to blue carbon capture and long-term storage. In the European Union, monitoring and assessments of the status of marine waters are key components of the Habitat Directive (HD), the Water Framework Directive (WFD) and the Marine Strategy Framework Directive (MSFD), and SAV health is an indicator of a healthy marine ecosystem. A satellite mapping tool is making it easier for Swedish authorities to map, monitor and evaluate changes in coastal vegetation and biotopes. This contributes to Sweden's efforts to protect the marine environment and helps the country comply with national and international monitoring and reporting requirements.
Challenge
Up-to-date knowledge of SAV abundance and growth is critical to assess the impacts of management and conservation efforts, monitor overall marine health, evaluate the success of blue carbon strategies and aid in the construction of blue carbon budgets.
However, the highly fragmented nature of SAV in time (due to seasonal changes) and place (as SAV is organised into many heterogeneous patches of individual communities in rather shallow areas) makes monitoring and mapping a challenging, time-consuming and labour-intensive task.
In Sweden, environmental monitoring of the spatial distribution of SAV was lacking due to the challenges of using traditional small-scale methods for large-scale monitoring. Traditional methods such as field-based observations come with limitations such as small coverage areas, high costs and unsystematic data collection, making it difficult to map SAV consistently and comprehensively. As a result, Swedish authorities were limited in their ability to fully understand the intricacies of underwater coastal communities and their evolution over time.
Solution
Building on a robust and scalable approach, and in collaboration with Swedish regional and national authorities, the DHI team developed an SAV monitoring tool to monitor the extent and dynamics of SAV at scale for Sweden in a cost-efficient and timely manner. The project included the entire shallow coastal zone of Sweden, an area covering almost 50,000 km2. The cloud-based web platform allows non-EO specialists to apply advanced machine learning algorithms and the latest earth observation data to conduct scalable and detailed SAV classification on demand.
The team first combined Copernicus Sentinel-2 satellite imagery, novel machine learning techniques and advanced data processing to create the first spatial overview of the distribution of SAV at a national scale in Sweden. A training dataset constructed with more than 30,000 manually labelled polygons was used to build the classification model, with which more than 3,800 km2 of underwater habitats of the entire shallow coastal zone of Sweden was mapped.
With this novel tool, authorities can now execute the entire mapping process in a few clicks – from the selection of suitable imagery to the final classification – just by interactively adding relevant training data. The user-friendly platform enables SAV mapping to be conducted on demand to ensure that data quality and update frequency meets the needs of Swedish authorities.
The project outcome and methodologies are further described in the following peer-reviewed article: Huber, Silvia. et al. (2021), Novel approach to large-scale monitoring of submerged aquatic vegetation: A nationwide example from Sweden. Integrated Environmental Assessment and Management.
Client:
County Administrative Board of Västerbotten, on behalf of the Swedish Agency for Marine and Water Management
Related SDG(s):
SDG 14: Conserve and sustainably use the oceans, seas and marine resources for sustainable development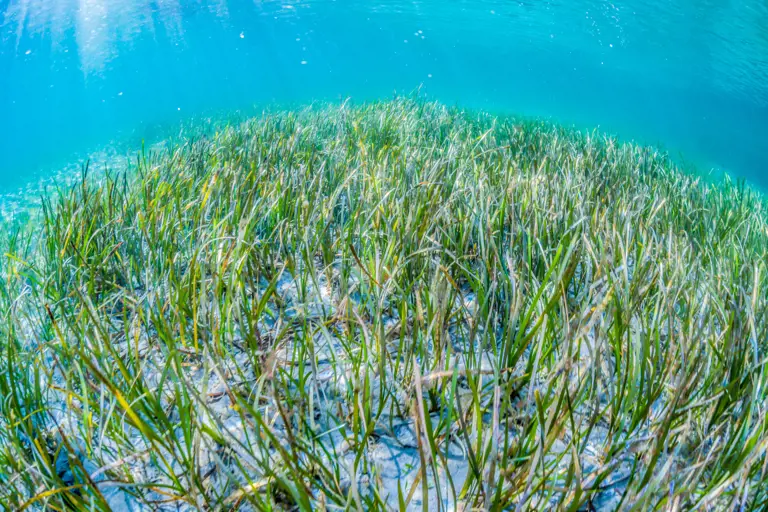 The presence, type and abundance of aquatic vegetation, such as eelgrass, are key indicators of the ecological status and environmental state of ocean and estuarine waters. © AdobeStock/divedog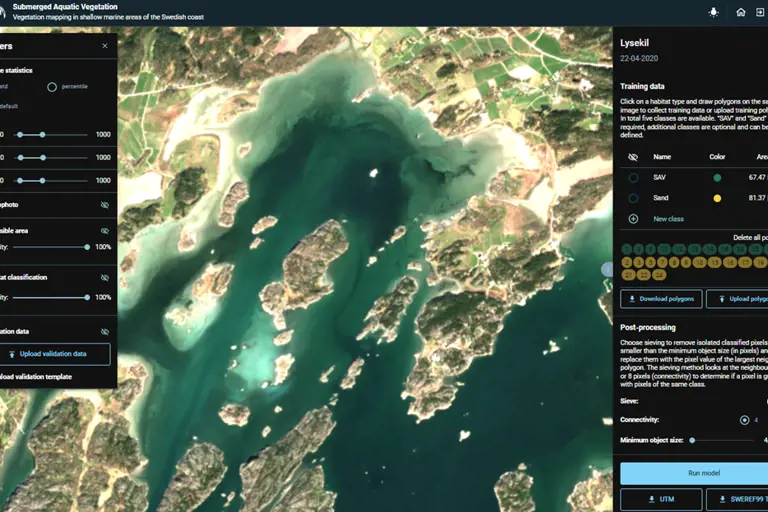 Example of the web application's graphical user interface, which enables non-experts to carry out advanced machine learning-based image classifications. © DHI
Results
With a proven and well-tested platform in place, Swedish authorities are empowered to monitor SAV even without an EO background. On the initiative of SwAM, local and national managers in Sweden can now more easily comply with national monitoring and reporting requirements and Sweden is better equipped to comply with international requirements at the EU level.
Looking to the future, the SAV mapping tool – now also in operational use in northern Europe and in Southeast Asia – can be applied worldwide as an integrated, scalable and flexible solution to map and monitor blue carbon ecosystems in a cost-efficient way, reinforcing our ability to safeguard the world's ecosystems and meet conservation and environmental objectives.
The mapping tool provides detailed insight into the status of aquatic vegetation in the shallow water areas of Sweden
Swedish authorities can now more easily comply with national and international monitoring and reporting requirements
This approach can be applied worldwide to monitor blue carbon ecosystems in support of climate mitigation and adaptation strategies
'The health of submerged aquatic vegetation is a key indicator of the ecological status of coastal ecosystems. With DHI's solution, we can now monitor and map Sweden's coastal vegetated habitats at a larger scale and more efficiently than ever before. The ease of use of the satellite mapping tool will contribute to an easier workflow for us in complying with monitoring and reporting requirements in line with various EU directives.'
Johnny Berglund
Coordinator of Marine Protection/Nature Conservation Officer
County Administrative Board of Västerbotten, on behalf of the Swedish Agency for Marine and Water Management
About our client
This was a project undertaken with the County Administrative Board of Västerbotten, on the initiative of the Swedish Agency for Marine and Water Management, SwAM. The County Administrative Board of Västerbotten, in cooperation with Gothenburg University, the County Administrative Boards of Kalmar and Gävleborg, initiated an assessment of the potential for satellite-based methods to be used in the national marine monitoring programme in Sweden.
The Swedish Agency for Marine and Water Management is the government agency in Sweden tasked to protect, restore and ensure sustainable use of freshwater resources and seas including fisheries management.
How can we help?
With our global network of offices, we make sure you get the right answers to your local needs. Tell us about your water challenges and we will get back to you.