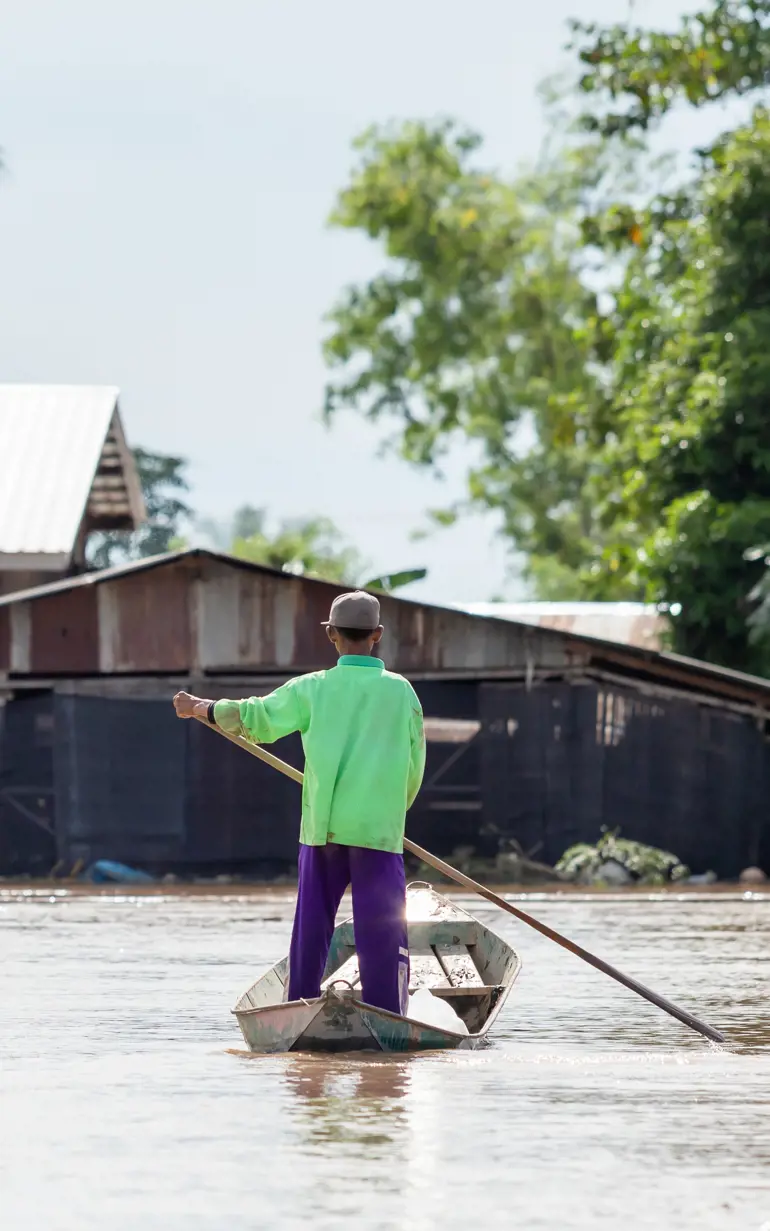 Project
Protecting millions of lives in Thailand from floods
Using a Decision Support System to forecast floods at 28 locations seven days in advance
In 2011, severe flooding in Thailand caused more than 800 deaths and billions of dollars in economic losses; Authorities knew they had to act now to prepare for flood scenarios in the future.
Challenge
Caught off guard with lack of reliable data
Heavy rains during the 2011 monsoon season triggered severe flooding throughout the country. In Bangkok, flooding along the Chao Phraya River affected vast areas of the Thai capital.
With 900 factories in 28 provinces badly impacted, Thailand's manufacturing industry took a massive hit. In addition, more than 20,000 km2 of farmland was damaged. After the waters receded, more than 800 people were found dead and the country's economic losses stood at more than USD 45 billion.
Without reliable and current flood data, Thailand was caught off guard. Authorities weren't able to take preventive measures or make decisions on-the-spot to alleviate the devastating impacts of serious floods.
Fully aware that this will happen again, Thailand knew it had to act swiftly.
Solution
Using a Decision Support System to forecast floods
To better manage flood events, the Hydro and Agro Informatics Institute (HAII) – part of the Thai Ministry of Science and Technology – decided to establish an operational water management Decision Support System (DSS).
Driven by MIKE Powered by DHI's MIKE OPERATIONS, the DSS is able to provide forecasted levels and discharges at 28 locations up to seven days in advance.
Once a day, four models, each covering separate flood plain areas, run in hindcast mode. This brings all model parameters up-to-date, reflecting current hydrological conditions. The system performs forecast simulations if needed, and imports rainfall levels hourly and meteorological forecasts twice a day.
With an intelligent flood forecasting system based on real-time data, Thai authorities could now ease the damaging impacts of severe flooding before and during the monsoon season.
Results
Better flood preparation, safer people and businesses
The DSS is programmed to extract data according to the simulation period, checking the range, rate of change and missing data. It then submits a daily data quality assurance report. Users can access real-time data, forecast data, water balance analysis and flood management tools from its interface.
Armed with current and reliable flood data before and during the monsoon season, Thai authorities could now better manage their flood planning – especially along the entire 160,000 km2 Chao Phraya River Basin – well ahead of time.
Never-before forecast of flood levels now possible at 28 locations seven days in advance
Early warnings and alarm bells issued in flood prone areas
Thailand is now better equipped to plan for and initiate emergency actions
Related SDG(s):
SDG 6: Ensure availability and sustainable management of water and sanitation for all
SDG 11: Make cities and human settlements inclusive, safe, resilient and sustainable
SDG 13: Take urgent action to combat climate change and its impacts
'HAII highly appreciates DHI for their excellent job on the Chao Phraya project, especially on the close collaboration and hands-on experience that made us become a good partner.'
Piyamarn Sisomphon, Project Leader
Hydro and Agro Informatics Institute
About our client
Hydro and Agro Informatics Institute is a public entity that falls under Thailand's Ministry of Science and Technology with the goal to support better agricultural and water resource management.
How can we help?
With our global network of offices, we make sure you get the right answers to your local needs. Tell us about your water challenges and we will get back to you.