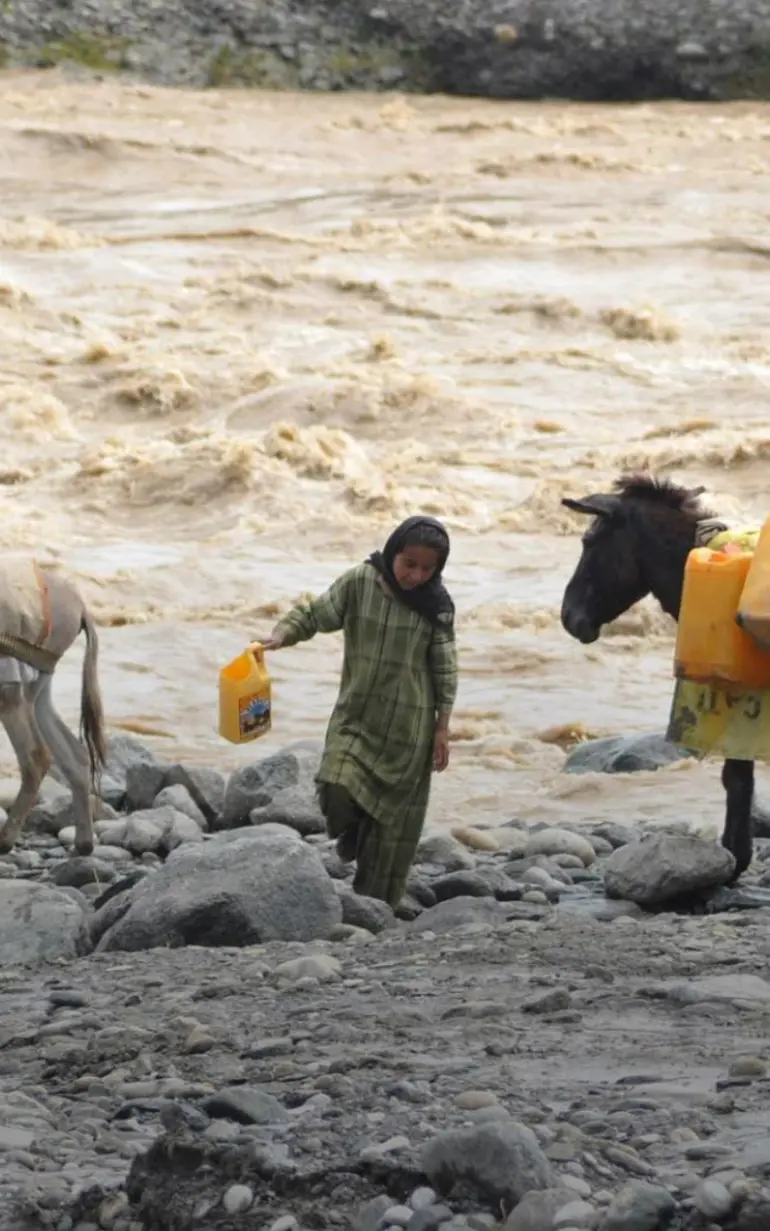 "Climate Change and our Empty Hand". Photo © WMO / Malia Zerak and Faiz Abad, Badakhshan, Afghanistan.
News
WMO calls for better monitoring of increasingly erratic water cycle
The hydrological cycle is spinning out of balance as a result of climate change and human activities, states the World Meteorological Organization (WMO) in its recently launched State of Global Water Resources 2022 report. Offering a comprehensive assessment, the report underscores the severe impact of droughts, extreme rainfall events and the melting of snow, ice and glaciers on long-term water security.  
DHI has contributed to the report with data from the DHI Global Hydrological Model, which supports more precise decision-making and modelling with easy access to a global dataset of hydrological variables. These data contributed to the global mapping of water resources in the report. 
WMO Secretary-General Prof. Petteri Taalas highlights the report's findings, revealing accelerated disruptions to the water cycle. He emphasises the urgent need for a fundamental policy shift, advocating for improved monitoring, data-sharing, cross-border collaboration and increased investments to manage the escalating challenges of water extremes. 
The report serves as a critical call to action, stressing the lack of knowledge about the true state of the world's freshwater resources. 'This WMO report offers a comprehensive, and consistent overview of water resources worldwide, highlighting the influence of climate, environmental, and societal changes,' says WMO Secretary-General Prof. Petteri Taalas.  
'The overwhelming majority of disasters are water-related and so water management and monitoring lies at the heart of the global Early Warnings For All initiative. Many of the countries targeted for priority action in Early Warnings for All suffered from major floods or droughts in 2022. Not a single country had timely and accurate hydrological data available to support evidence-based decision making and early action,' says Prof Taalas. 
'This report is a call to action for more data sharing to enable meaningful early warnings and for more coordinated and integrated water management policies that are an integral part of climate action,' he says. 
The World Meteorological Organization is the United Nations System's authoritative voice on Weather, Climate and Water. Collaborating with a network of hydrological experts, including DHI, NASA and the German Research Centre for Geosciences (GFZ), the WMO's report integrates field observations, satellite data, and numerical modelling simulations to provide a global-scale assessment of water resources.  
With over 50% of global catchment areas experiencing deviations from normal river discharge conditions in 2022 and more than 60% of major water reservoirs facing below-normal inflow, the findings in the report highlight the urgent need for coordinated and integrated water management policies on a global scale. 
Learn more here: State of Global Water Resources 2022 
How can we help?
With our global network of offices, we make sure you get the right answers to your local needs. Tell us about your water challenges and we will get back to you.