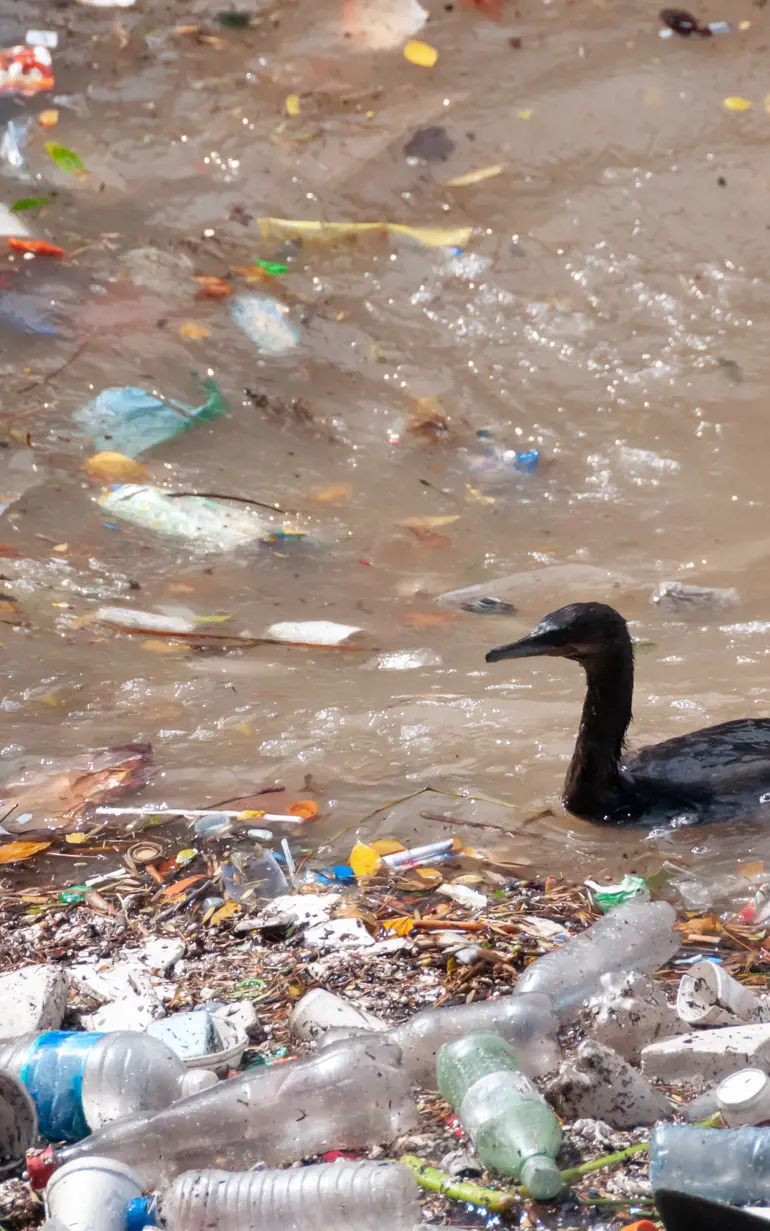 News
Understanding macroplastic behaviours in rivers is a step towards ending plastic pollution
Highlight: International Day of Action for Rivers - 14 March
DHI is collaborating with Wageningen University & Research (WUR) to push the boundaries of plastic pollution modelling. 
WUR's river plastic pollution team led by Assistant Professor Tim van Emmerik has been observing and measuring river plastic flows in the Rhine and Meuse Rivers in the Netherlands and the greater basins, as well as the Odaw River in Ghana. This initiative will also provide an excellent opportunity to calibrate and improve the existing model that the UNEP-DHI Centre on Water and Environment (UNEP-DHI) is using to describe plastic transport in freshwater ecosystems.
UNEP-DHI provides key technical support to the United Nations Environment Programme's (UNEP) role in assisting countries to achieve their sustainability ambitions. 
The newly acquired data will allow the team to assess the capability of the model in capturing plastic transport during a peak discharge event as well as in illustrating the effects of e.g., seasonal dynamics on the transport of plastic or in the scenario when microplastic litter is trapped in vegetation. With validated data, at-risk plastic hotspots can be identified more effectively, contributing to a better understanding of the timing and magnitude of plastic pollution events in rivers.
Understanding river plastic flows is key to preventing further environmental damage

The price of marine plastic pollution is becoming clear  - impacts on our health, society and the environment are estimated to cost the global economy billions of dollars. To tackle plastic pollution across the environment, there is a need to look at plastic's transport pathways: rivers. 

Research indicates that the world's rivers are a major contributor to plastic pollution in oceans, with up to 80% of marine litter originating on land. A recent study revealed that many of these sources can be traced back to 1,000 rivers around the world – highlighting the need for active and targeted interventions in river systems to prevent further environmental damage. By understanding, monitoring and forecasting river plastic flows, policymakers will know where immediate action is required so solutions can quickly become an integral part of our battle against plastic waste.  
UN treaty to end plastic pollution
The issue of plastic pollution is so prevalent that in 2022, United Nations Member States endorsed a historic resolution at the UN Environment Assembly in Nairobi to end plastic pollution and forge an international legally binding agreement by 2024.
'Being able to quantify plastic pollution in freshwater ecosystems will be needed in order to identify and implement relevant interventions and policies towards ending plastic pollution, not just to be in line with the forging of the UN treaty but to truly benefit the environment,' says Nicola Balbarini, Water Resources expert from DHI's International Development team.

'The challenge of plastic and how plastic particles move through rivers is poorly understood due to the little data governments and policymakers have regarding plastic in rivers. We believe the activities conducted with Wageningen university will help us understand extreme events which we know are key drivers of plastic in rivers.'
How can we help?
With our global network of offices, we make sure you get the right answers to your local needs. Tell us about your water challenges and we will get back to you.