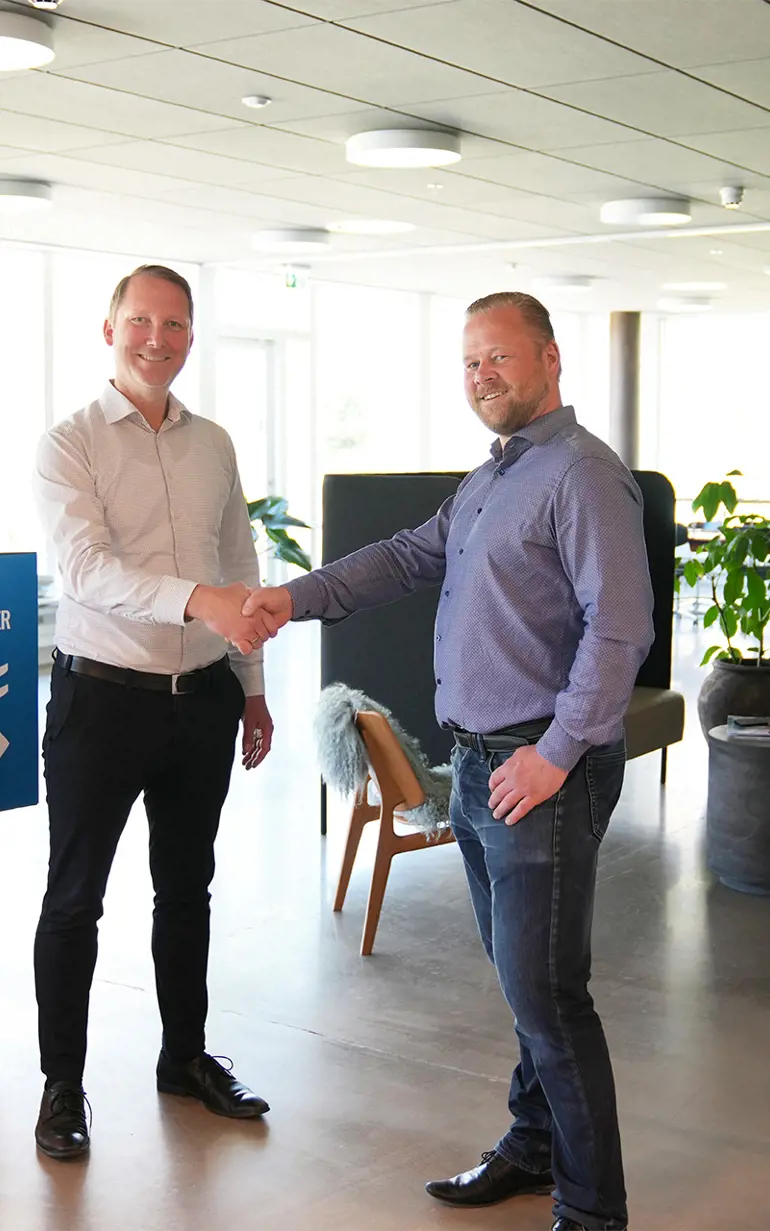 Anders Liechti, DHI's Chief Technology Officer and Anders Munster, FORCE Technology's Head of loT Technology & Architecture sign partnership agreement to focus on creating value with internet of things (IoT). © DHI
News
DHI inks partnership with FORCE Technology to focus on internet of things
New data sources are continuously available from internet of things (IoT), for example, satellites, drones, sensors, mobile devices and social media.
With billions of connected devices collecting and sharing data all over the world, there is significant potential to create value and develop digital water solutions in various sectors with IoT.
This is exactly the reason why DHI and FORCE Technology are teaming up to explore, research and develop new digital water and sustainability solutions with IoT.
The increasing amount of data provides new opportunities for the development of data-driven modelling and decision support tools and integration with water models. This includes the use of new data sources in model calibration and validation, as well as the continuous updating of operational models in real-time with data assimilation and even autonomous control.
Together, the two organisations will focus on researching the potential and demonstrating the use of IoT to develop new operational data services and digital water solutions that will change the water industry.
Anders Liechti, DHI's Chief Technology Officer shares, 'I am excited about this partnership with FORCE Technology and to get started on the IoT platform architecture for DHI. Getting IoT data efficiently is essential for our projects and digital assets in DHI. Today we have some old "IoT" data tools, which we need to upgrade and replace. Selecting the right path for this is part of what we will be working on together with FORCE Technology.'

Anders Munster, FORCE Technology's Head of loT Technology & Architecture adds, 'At FORCE Technology, we are focusing on creating value with IoT through industry collaboration. DHI has a unique position and knowledge in the water solutions ecosystem. This partnership enables IoT expertise to meet domain expertise within water solutions.'
How can we help?
With our global network of offices, we make sure you get the right answers to your local needs. Tell us about your water challenges and we will get back to you.