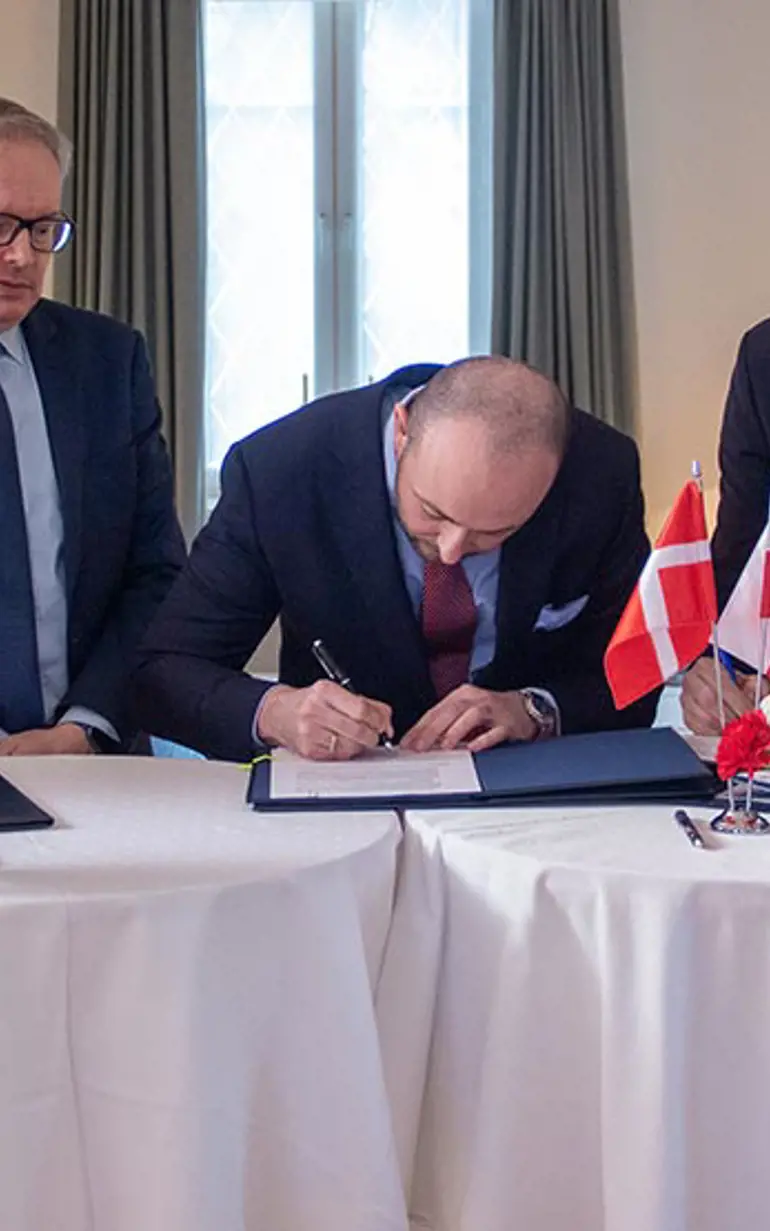 The partnership agreement is signed by Dariusz Dąbrowski, Member of the Management Board of MPWIK Warsaw, Tomasz Mencina, Member of the Management Board of MPWIK Warszawa, Waldemar Mlaś, Vice President in DHI Water Supply & Urban Drainage, Central & South Europe, Krzysztof Piekarski, Chairman of the Board of Kamstrup Sp. z o.o. and Jørgen Koch, Chairman of the Board of Leif Koch A/S (from left) ©WTA
News
DHI enters into partnership in Poland on sustainable water management
DHI has signed an agreement at the Royal Danish Embassy in Warsaw for a partnership project called 'Case study and pilot implementation of available technologies to support the management of the water supply network' for the Warsaw Waterworks. The focus of the project will be on optimising the drinking water distribution to bring down water loss and costs and protect the precious water resource.
Until 2027, Poland has planned investments for EUR 27.5 billion on investments in infrastructure, environmental protection, energy, digitalisation, entrepreneurship, innovation and education and social affairs. These investments will include the water industry to help solve the country's water challenges. There are also planned investments to comply with new EU directives for the water sector.
Waldemar Mlas is Vice President in DHI for Water Supply & Urban Drainage in Central and Southern Europe, and he looks forward to the partnership, 'DHI has a strong local presence in Poland and close collaboration with clients in the water sector on achieving more sustainable water management. We look forward to identifying and testing solutions that can also help reduce water loss and energy consumption for Warsaw Waterworks in collaboration with our partners.'
'Reducing water losses is particularly important in increasingly prolonged periods of hydrological drought. This will also be required of us by the new EU water directive, the provisions of which are to be introduced into Polish law,' said Tomasz Mencina, member of the Management Board of Warsaw Waterworks, in a statement.
The project aims to prepare a case study and evaluate the technologies available on the market to support the sustainable management of the water supply network as part of building a real-time control system for the water supply network supporting water consumption balancing. A consortium of DHI, Leif Koch A/S and Kamstrup Water will deliver the project, which has been supported by the Royal Danish Embassy's two programmes, the EKF Green Accelerator programme and the Water Technology Alliance.
How can we help?
With our global network of offices, we make sure you get the right answers to your local needs. Tell us about your water challenges and we will get back to you.