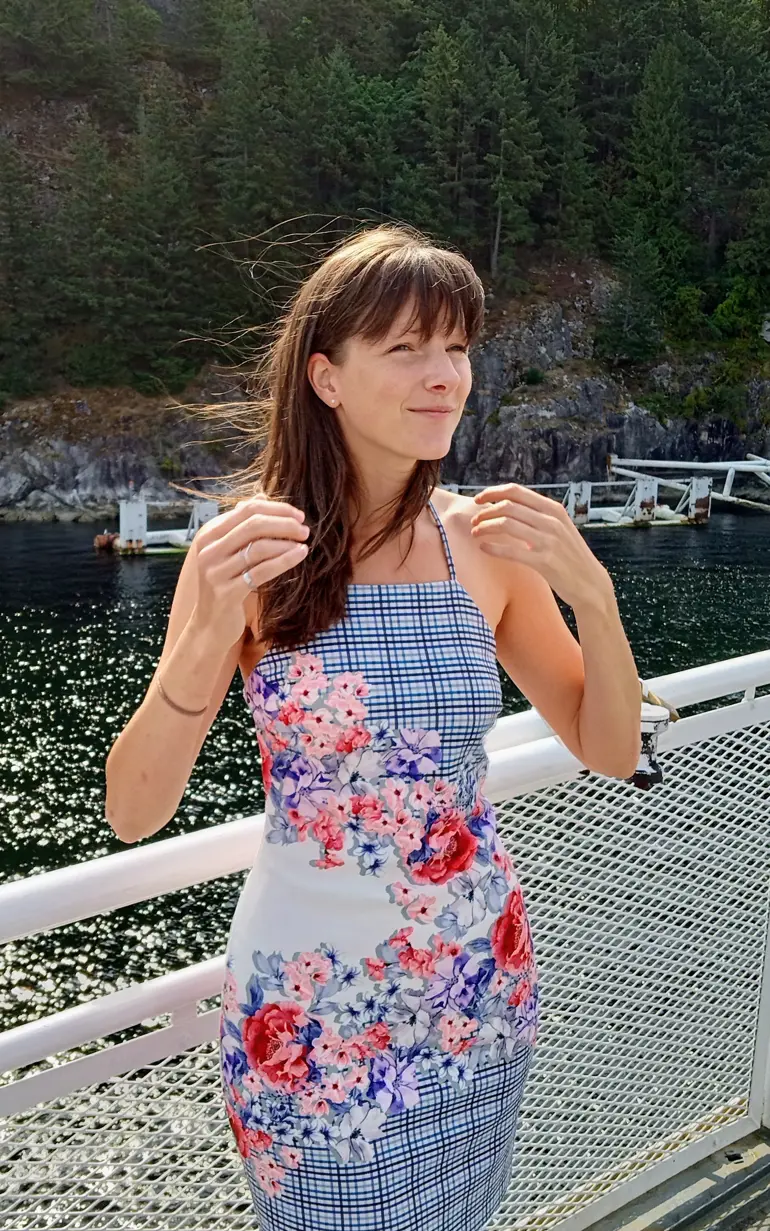 Coastal Engineer and Project Manager, Canada
Jessica Wilson - 'I grew up in a remote, coastal community...'
'I grew up in a remote, coastal community (Rivers Inlet, British Columbia), which had about 40 full-time residents. My family were beachcombers (i.e., log salvagers). We lived on a float camp (think house, on logs, in a bay) and spent a lot of time at the beach. Accordingly, I can swim very well, I've spent a lot of time on a tugboat, and I am pretty good at identifying edible plants along the coastline.'
Meet Jessica Wilson, our Coastal Engineer and Project Manager from Canada!
Hi Jessica! We're excited to have you on DHI People. Tell us about yourself.
I am a Project Manager and Coastal Engineer within the Marine & Coastal team in Canada. I am one of our many 'remote' staff working from Nanaimo, Vancouver Island, British Columbia – surrounded by rainforests and ocean. My work encompasses a diverse range of projects, spanning from developing a web application for coastal datasets, to developing shoreline protection designs and formulating guidelines for nature-based solutions in North America.
When did you join the DHI family and how did it happen?
I joined DHI over a year ago (time flies!). While I gained valuable experience at my previous firm and loved the people I worked with, I was ready for a new opportunity to further develop my technical and leadership skills on new types of projects and beyond the confines of Western Canada. I jumped at the opportunity to join DHI, learn from the experts, work on novel and meaningful projects globally and have a positive impact.
As a coastal engineer, why do you do what you do?
As a coastal engineer, I have the opportunity to help shape the coastline to meet the needs of both people and the environment. In practice, this means that I get the privilege of working with local First Nations to help mitigate historic and ongoing damage to their traditional lands. I work with municipalities to better understand and mitigate flood and erosion risks. I work with non-profits to establish guidelines and advocate for policies that promote sustainable and equitable practices for coastal development. I get to learn and apply cutting-edge technologies and have the opportunity to improve the coastal engineering practice by contributing to research. I also get to work with an incredibly kind, talented and hardworking team in the Americas, as well as across DHI.
Seems pretty cool to me
'I am one of our many remote staff working from Nanaimo, Vancouver Island, British Columbia – surrounded by rainforests and ocean. My work encompasses a diverse range of projects, spanning from developing a web application for coastal datasets, to developing shoreline protection designs and formulating guidelines for nature-based solutions in North America.'
Jessica Wilson
Coastal Engineer and Project Manager, Canada