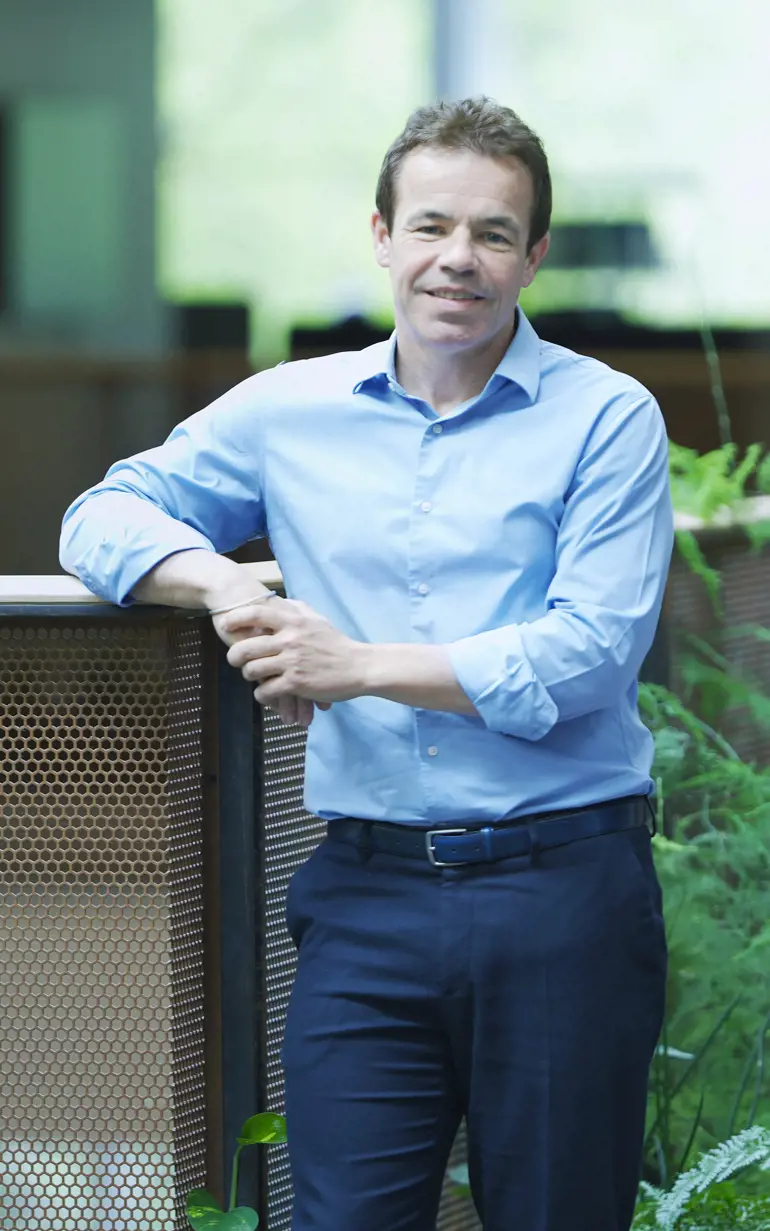 Deputy Chief Manager of UNEP-DHI, Denmark
Gareth James Lloyd on how UNEP-DHI came about
Gareth is Deputy Chief Manager of the UNEP-DHI Centre, a joint partnership between United Nations Environment Programme (UNEP) to promote sustainable water resources management. Let's get to know him!
Hi Gareth! Thanks for chatting with us today. Can you tell us a bit about UNEP-DHI's history? How did DHI's collaboration with UNEP come about?
Once upon a time in at DHI in the early 1990s some very clever colleagues came up with a concept for sustainable water management, called Integrated Water Resources Management, or IWRM. When UNEP began to work with IWRM in the mid-1990s, they turned to DHI for long-term help. Thankfully, DHI agreed, and we have had a great partnership ever since.
Today the IWRM approach to water management that was born in DHI is used by the United Nations and every single country in the world.
Have you always worked with water and how did you join the DHI family – did you start at UNEP-DHI right away?
Even though I have degrees in environmental science and environmental policy, I worked as a programme manager for Microsoft and a journalist in London before joining DHI.

I first came to DHI to interview Torkil Jønch Clausen – the 'Godfather of IWRM'. We got on very well and he offered me a job. He's quite an inspirational character, and we are still in contact today.
Tell us about a memorable project you have been involved in.
Probably my favourite has been with the online sustainable water-management game, Aqua Republica. This was the brainchild of our former colleague, Chengzi Chew. One version we made was used in a secret government meeting where the consequences of a terrorist attack on the national water and energy infrastructure were simulated. The government were very impressed and very shocked.
Another version of the game was used for an online schools' competition, which involved literally thousands of children and their teachers all over the world. So many people bought into the idea and were willing to support with their time and energy. It was a very rewarding and moving experience.
What's the best part about working at DHI?

This is an easy one. Working with intelligent and kind people in a relatively flat hierarchy, where the focus is on solving challenges and doing something useful.
Can you share a fun fact about yourself that nobody at DHI knows about (yet)?

Well, I love India and through a series of complete coincidences, I ended up getting a small role as a bad guy in a Bollywood movie. My main scene was a Kungfu fight with the leading guy over a shared love interest. I showed my kids the film thinking they might be impressed, but they just went very quiet before telling me it was completely weird.

By the way, I lost the fight and the hero got the girl…but it was oh so very close!
Complete this sentence: if I could have any job in the world, I would want to be …

Something like a round-the world cycling vlogger, the creator a stock trading platform for green investments, a centre forward for Everton Football Club, or have a business renovating historic buildings in the south of France.

If it was something closer to what I am doing now, I would say a job that gave me the opportunity to promote sustainable water management on a broader scale and platform. I'm very passionate about what we do.

If none of these were possible, I would happily settle for the role of the hero who gets the girl in a Bollywood movie! Haha.
'Once upon a time in at DHI in the early 1990s some very clever colleagues came up with a concept for sustainable water management, called Integrated Water Resources Management, or IWRM. When UNEP began to work with IWRM in the mid-1990s, they turned to DHI for long-term help. Thankfully, DHI agreed, and we have had a great partnership ever since.'
Gareth James Lloyd
Deputy Chief Manager of UNEP-DHI, Denmark