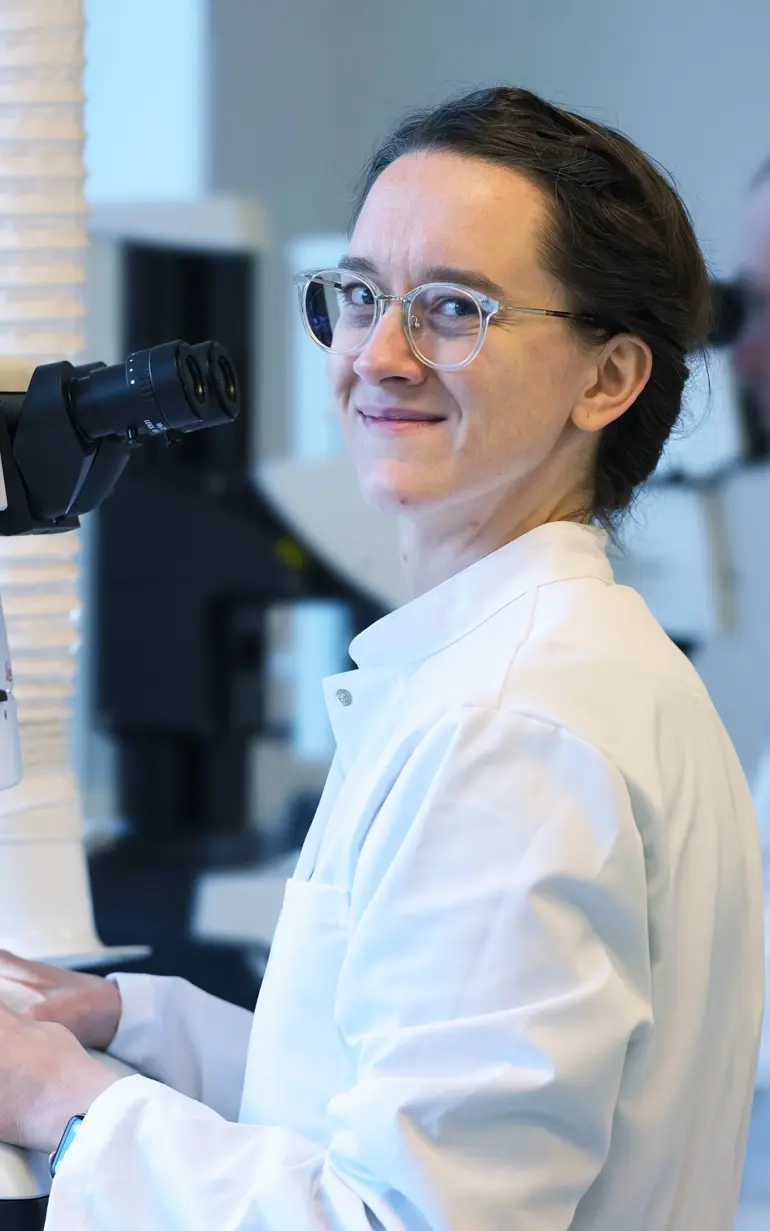 Biologist, Denmark
Anna Fortuna-Wuensch - protecting our planet one screening at a time
Anna from our Vessels team grew up with reagent bottles labelled with NaCl and NaHCO₃ in her kitchen cabinets, 'because salt and baking soda would be far too basic'.
Q: Hi Anna! When did you join DHI and how did it happen?
I joined the DHI Team in September 2022. While on vacation in the Slovenian Alps, I heard of this position through my network and I immediately pulled over on the side of the highway to write the email expressing my interest. I guess my initiative paid off because it resulted in my position here with the maritime tech team.
Q: We hear you come from a family of biologists and chemists. Tell us more!
That's actually kind of a funny story. My mom has a degree in microbiology and my dad has a background as a chemist. As a child, our kitchen cabinets were lined with laboratory reagent bottles labelled with NaCl and NaHCO₃ (because salt and baking soda would be far too basic). The connections go even further as I have married a marine chemist, the son of two chemists. The odd part is I never set out to be surrounded by the water environment, but it certainly found me, and I clearly feel at home with it.
Q: What does your day look like?
Every day is different and there is usually something going into our ballast water operations. This may include preparing laboratory equipment for our test site in Hundested. When the samples return, we all kick into action, identifying and counting zooplankton, and phytoplankton, performing microbial and chemical analysis. On other days, I may be more occupied with our ecotoxicology test activities evaluating the effects of wastewater or chemicals on aquatic organisms.
One thing is for sure, there is never a boring day and there is always another cool project around the corner.
Q: What do you enjoy most about being at DHI?
I love how fluid my work is – not only do I have the room to grow and develop (both as an individual and in my career) but I am actively encouraged to do so. Nothing seems redundant or dull, I am constantly being introduced to new projects that span a wide range of subjects or challenges. While I have my own little niche focusing on experimental work, particularly with testing chemicals on fish, there is a wide variety of contexts the work is performed and parameters to meet.
Above all I can truly say my work makes an impact, protecting our planet one screening at a time.
'I love how fluid my work is – not only do I have the room to grow and develop (both as an individual and in my career) but I am actively encouraged to do so. Nothing seems redundant or dull, I am constantly being introduced to new projects that span a wide range of subjects or challenges. Above all I can truly say my work makes an impact, protecting our planet one screening at a time.'
Anna Fortuna-Wuensch
Biologist